Sabriya's cheer squad had their Christmas party last night after cheer practice. They had dinner catered in by MARK's aka Honey Bear's BBQ - Chicken Alfredo, green beans, Caesar salad & bread sticks.
Cupcakes shaped into a Christmas tree was dessert, so cute.
After dinner they played the popular holiday party game, white elephant gift exchange except these girls weren't quite in the spirit of the game... Generally, white elephant parties need a minimum of six participants, no problem there are 15 cheerleaders. White elephant parties have been known to result in playful rivalries between players trying to get sought after gifts. The goal of a white elephant party is usually to entertain rather than to gain. Well for this group of girls it was all about the gain, either 1)the majority of them didn't have the heart to steal a fellow cheerleader/friends gift (there were 1 or 2 exceptions) or 2)they just liked the thrill of opening their own gift.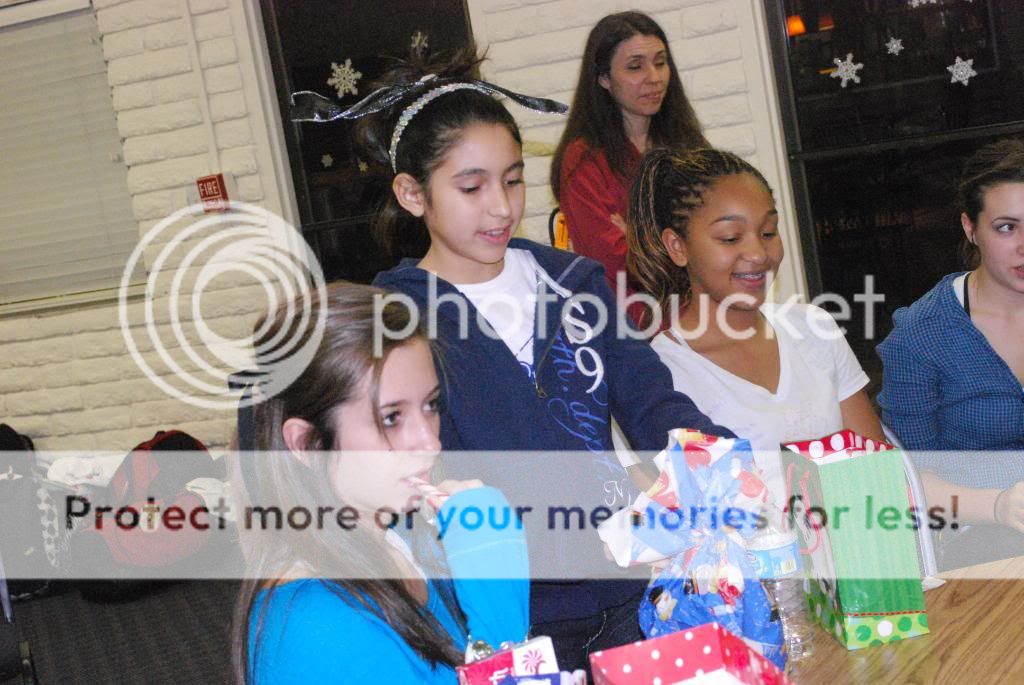 After the gift exchange, their cheer coach, Coach Molly presented each cheerleader with a cuddly pillow she made for them in their school colors...
Now for the highlight of the evening, which Coach Molly kept as a secret even from us parents, we were only given instructions to drive the girls to Kiwanis Park in Tempe... Once there each girl was given a towel and a block of ice and we then went in search of the highest hill so the girls could go ICE BLOCKING!
Didn't know what this was until right at this moment... Ice blocking is a recreational activity in which individuals race to the bottom of a hill sitting on large blocks of ice. Hmmmmm, interesting! The only equipment needed was some large blocks of thick ice, preferably padded clothing and old towels to sit on. Well at least that's all they needed, I could of used some warning in order to be better prepared for being outside. If you know me, then you know that the minute the temperature falls below 70 degrees, I'm COLD! I've been cold for at least 3 weeks now and it doesn't appear to be getting any warmer... Anyways, I digress, things I needed: gloves, flat shoes preferably Uggs or anything other than the 3 inch heeled boots that I was wearing all day. Not exactly the right kind of shoes for trumping around a park at night, climbling hills... Oh, a longer coat and maybe jeans over my leggings, a hat & scarf would been nice and a steaming hot cup of hot chocolate... Nope, I wasn't prepared but still managed to snap a few shots of the girls doing their ice blocking. I think they had a FABULOUS time and didn't seem to mind the cold weather, me I'm still de-frosting :)